Artists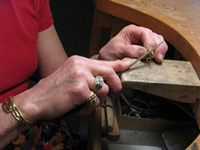 Liza Gene Sanchez
Ms. Sanchez has a BFA in Art Education with a minor in painting and an MA with emphasis in metals, both from the University of Illinois in Champagne-Urbana. She lives and works in her studio just north of Española, New Mexico with her husband and their two large dogs.
"Although I was born and raised in northern Illinois, it was the mountains of New Mexico where I finally found my home. The unique landscapes and special aura of the region give me inspiration and serenity.
I have always been intrigued by natural forms and textures, especially upon close examination. Flowers, pods, even rocks fascinate me. My cholla wood designs were inspired by the spiky shrub-like cholla cactus that grows abundantly in our high deserts. When it dries, the wood forms a tube-like stick with many elongated holes; its lines are quite beautiful. I start with a small piece of a stick, which I file and mold. By using this basic component, either in wax or in metal, in different combinations, I can create endless variations. I don't try to duplicate nature, I try to capture my impressions of its essence."
Hand made of high karat gold in Santa Fe, New Mexico
Please Contact us for more information.

Due to the fluctuating price of gold, prices may change without notice.