New Items
Michael Jensen Designs Stacking Rings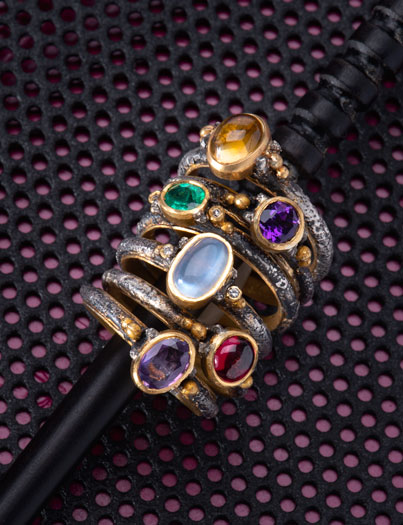 One of our all time favorite New Mexico design teams, Michael and Catherine Jensen, are the source of this kaleidoscopic stack, crafted in sterling silver and 22kt gold. Buy them all or single them out!
From top to bottom:
MJD27 Citrine 1.32 cts. Cabochon Ring $520
MJD25 Amethyst .049 cts. Ring $520
MJD26 Chrome Tourmaline and Diamond .02 cts Ring $600
MJD24 Rainbow Moonstone 1.42 cts. and Diamond .02 cts. Ring SOLD
MJD23 Garnet .98 cts. Cabochon Ring $540
MJD28 Violet Sapphire .87 cts. Ring $645
MJD27stack Michael Jensen Designs Stacking Rings
Hand made of high karat gold in Santa Fe, New Mexico
Please Contact us for more information.

Due to the fluctuating price of gold, prices may change without notice.