Neckwear
Odin's Raven Necklace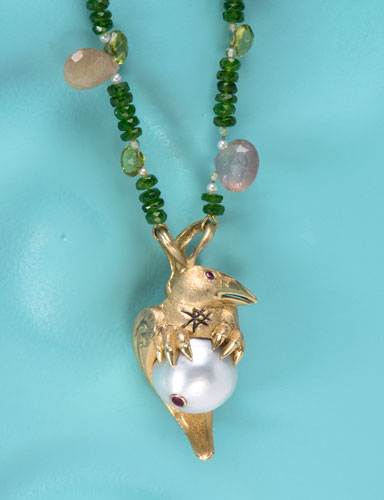 According to Norse mythology, the Raven-god Odin had two ravens upon whom he bestowed the gift of speech. The birds would fly far and wide to bring Odin valuable information that established his reputation for wisdom. The most favored raven was called Munin, who is the featured star of this intricate necklace by Laila Ionescu.
A strand of chrome diopside is festooned with pale green and yellow sapphire briolettes, pink tourmaline briolettes, faceted peridot beads, and seed pearls. The necklace is clasped with a South Sea baroque pearl Wisdom Well sculpted with pink sapphires .45 ctw. in 18kt gold and finished with white diamonds. The raven is a tour de force in 18kt gold with sparkling purple diamond .06 ctw. eyes, clutching a South Sea baroque pearl of wisdom adorned with one all-seeing pink sapphire.
Approximate length: 36"
ION07 Odin's Raven Necklace
Hand made of high karat gold in Santa Fe, New Mexico
Please Contact us for more information.

Due to the fluctuating price of gold, prices may change without notice.