Artists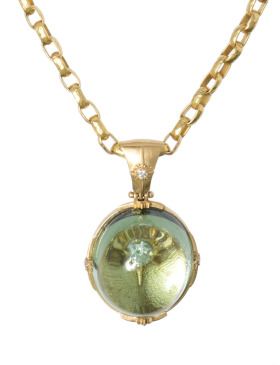 Amy Bertelli
After inheriting The Golden Eye from her mentor, Norah Pierson, Amy embarked upon her role as the primary jewelry designer. Since 2007 she has honored the jewelry gallery's founder while forging a path of her own. Her love of colored gemstones informs her designs. Amy considers herself a "midwife" for the materials. Her remarkable Power Pendant Series, including the Sugilite Baroque, Astarte, and Soul's Compass Pendants, conveys the power, depth, and restorative authority of the Divine Feminine.

"I can always tell when I get the right combination of stones. They tell me when something is missing or when I have it right. Likewise, the decision to use 18kt gold or the warmer look of 22kt gold is dictated by the piece itself. My job is mostly to listen."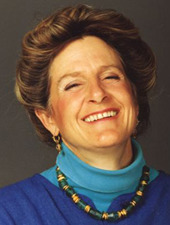 Norah Pierson 1940 - 2007
In the late sixties, Norah Pierson, just back from studying art and jewelry making in Italy, began an apprenticeship with master jeweler Joseph Nolen in Laguna Beach, California. In 1971 she opened her own custom jewelry store, The Golden Eye. She was very successful and built a strong following but decided that Laguna Beach was getting too big. She moved to Santa Fe, reopening her store in June 1984. When she arrived in Santa Fe, she hired Amy Bertelli to be her store manager. For twenty-three years, Norah and Amy made beautiful jewelry together and trained a growing support staff. Norah's dream store had become a reality. Sadly, in June of 2007 Norah passed away unexpectedly, leaving her shop and all her designs in the hands of her manager Amy Bertelli. The Golden Eye's loyal crew of bench jewelers and sales associates are upholding the legacy of Norah Pierson's distinctive designs and finishes. We continue to offer exquisite jewelry, from the golden oldies to newly inspired designs, all hand made by our highly skilled team in Santa Fe, New Mexico.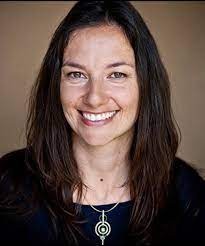 Robin Waynee
Internationally recognized award-winning jeweler Robin Waynee learned at an early age how creativity and hard work can lead to fulfillment. A member of the Saginaw Chippewa Tribe, Robin was born and raised in Mio, Michigan along with six siblings, and worked with her family in a variety of creative fields including jewelry, photography, custom furniture, and painting. Her first exposure to jewelry-making was presented by her father, sculptor/jeweler Robert Lone Eagle Waynee, from whom she picked up some skills. Always eager to learn and to lend a hand, Robin would take on any project, from sweeping out a garage to sanding furniture.

Robin entered and won her first design competition in 2007 at the Southwest Indian Market (SWAIA) in Santa Fe, NM. She has since won numerous awards not only at SWAIA and the Heard Museum in Phoenix, AZ, but also internationally. In 2010 Robin entered her first large-scale award competition, the Saul Bell Design Awards, which is recognized by top designers around the world as the most prestigious international jewelry competition. She was awarded First Place in the silver category. Inspired, she entered Saul Bell again in 2011 and achieved First Place in the gold category. Entering once again 2012, Robin achieved an unprecedented third win in a row (the only jeweler to ever achieve this), with the Grand Prize for her stunning bracelet, "Corona and Halo."

In 2014 she won the Niche Award, which celebrates excellence in North American fine craft. She also received two separate MJSA Vision Awards. She was once again a Niche Awards finalist in 2015.

Robin currently works in her studio in Santa Fe and is married to her former mentor, Ryan Roberts. They have two boys, Aidan and Logan, who are already becoming jewelers themselves.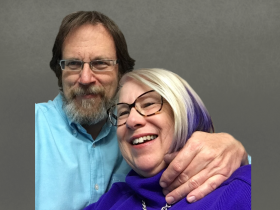 Michael Jensen Designs
Michael Jensen Designs, created by Michael and Catherine Jensen, is inspired by the mythology of ancient civilizations. Michael has been a designer and metalsmith for more than thirty-four years. Catherine is a world traveler and graduate gemologist. Their passion for sculptural form and refined engineering provides the impetus for a collection that evokes the nobility of legendary times.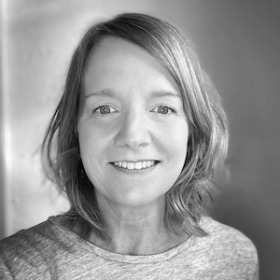 Melinda Risk
Melinda Risk was born and raised in Indiana. She has been drawing and making things since she was a tiny girl, deeply engaged with Mother Earth. In high school she took every art class available. She attended Kent State University where she studied glassblowing, printmaking, fibers, and metals, earning a BFA in Jewelry/Metals.

Melinda originally wanted to be a painter but after the metals class she was jewelry-bound. Her spirited depiction of the natural world sets her work apart. Compositions entail a combination of multiple materials (22kt gold, sterling silver, gemstones, bone, horn, and porcelain) and techniques (glass painting, carving, fabricating, and metal granulation). Melinda combines a wealth of elements to tell each story, much like a composer employs diverse instrumentation to convey the emotion behind a piece of music.

Though walks in nature serve as her primary muse, she and her son travel to unusual destinations for renewal and inspiration. Her favorite pastime is carving anything...wax, wood, bone, clay, and gemstones. She also loves the magic of uniting the finished components of a piece to bring her vision to life.

"The best compliment is when someone decides to own a piece of my work. It gives me confidence to continue making more. It's a circle. I have so many ideas in my mind waiting to get out..."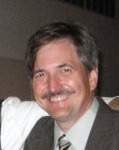 Keith Berge
The Golden Eye has had the privilege of representing artist Keith Berge for many years. His attention to detail and design are highly regarded in the world of goldsmithing.

"The primary influences in my work arise from a lifelong fascination with history and a desire to better understand the technical and artistic motivations and challenges of the past. As such, the majority of my work is an effort to pay tribute to the amazingly talented ancient craftsmen drawing heavily on Minoan, Sumerian, Etruscan, Greek, and Roman influences. Humans have adorned themselves with jewelry for at least 30,000 years but the introduction of metals into jewelry is relatively recent, only becoming widespread in the past 7000 years. Sadly, many of the techniques used by the ancients to create their masterpieces have been lost due to rapid advances in technology and the ability to inexpensively mass produce items. It is my goal to keep the old ways alive, recreating by hand, often painstakingly, pieces that are similar or identical to the pieces made thousands of years ago. Although the tools I use are better than those of the Bronze Age Etruscan craftsman, the challenges are comparable. My medium of choice is high karat gold because it imparts a soft, rich luster to my pieces, providing a look suggestive of an ancient and regal past.

In addition to my goldsmithing, I have a 'day job' as an anesthesiologist at the Mayo Clinic. While I love this career with the academic and social outlets it provides, the greatest joy of my day comes when I can sit at my workbench to recreate the wonders of the ancient past."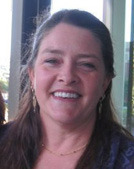 Johanna Berge
Johanna was born and raised in Lake City, Minnesota on the Mississippi River. For most of her life, she has been immersed in her role as a mother, and her career as a physical therapist.

Johanna is an avid fan of the outdoors and derives much fulfillment from hiking, cross country skiing, mountain biking, and spending time with her animals. The harmony and balance of nature inspired her to begin working with precious stones and metals. A trip to the Argyle mine in Australia left her enamored with natural colored diamonds. Her travels to the Middle East added an earthy opulence to her striking designs.

Although Johanna's intention was to express her joy and creativity through her jewelry and share it with a select few, others soon noticed her designs and asked to buy the items she was wearing. Johanna's business grew rapidly by word of mouth and now she finds herself, much to her delight, a full time artist.
Susan Bell
"While traveling in Ecuador I became fascinated by the jewelry worn by the indigenous women of villages in the high Andes. These women have a highly developed sense of style, steeped in tradition. Their community and familial pride is expressed in their dress, and their jewelry signifies their wealth and status.

The Spanish brought their techniques of goldsmithing with them when they colonized South America in the late 16th century. There they found a native culture with highly developed metalworking techniques of its own that readily absorbed the Spanish filigree technique. This craft of great refinement has evolved over four hundred years.

In the lovely colonial town of Cuenca I met Jorge Moscoso, a wonderfully sophisticated master jeweler, who was able to help find other jewelers still skilled in these techniques. Jorge helped me realize my dream of bringing this unusual jewelry to the United States and beyond. I am deeply committed to the development of the Belle line for the benefit of these marvelous craftsmen."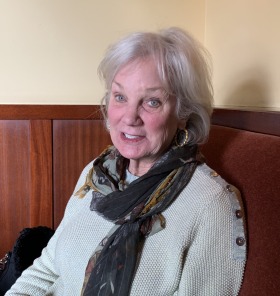 Susan Sims
Susan Sims has been developing her craft for more than thirteen years. All of her jewelry is hand fabricated in 22kt gold. She melts the metal into a solid 22kt gold ingot that she forms and hammers until she is satisfied with each one-of-a-kind piece.

Susan's inspiration for her work is the inherent beauty of the gold and the challenge of creating a vehicle for that richness. She knows she has been successful when the emotion that she invests in each piece engenders a palpable, full-hearted sense of resolution. Susan's wish is for the wearer to enjoy the same exhilaration that she experiences in the process of expressing her vision through her art.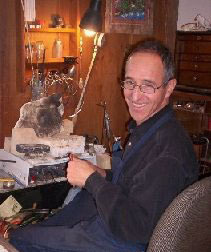 Silvio Mazzarese
Silvio Mazzarese was born in Tunisia to a family of Italian jewelers. His father and uncle had a jewelry store in Tunis, and then in Rome.
The family moved to Nice, France where Silvio went to jewelry school. In 1982 Silvio moved to the United States.
He honed his skills in Kansas City and San Francisco before falling in love with the beauty, open spaces, and people of New Mexico.
Silvio became a member of The Golden Eye family where he was influenced by Norah Pierson's lavish, old world aesthetic for over ten years. He continued to work with The Golden Eye until 2008.
He and his family now live in Vermont. He continues to provide The Golden Eye with his iconic designs.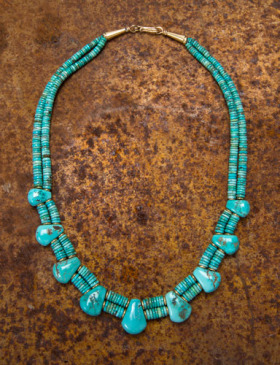 Michael Grant
Michael Grant learned to make jewelry from Yaqui-Spanish master jeweler Danny Romero in the early eighties. He has worked as a jeweler ever since, preferring primitive tools to high tech innovations.

"In our society, financial requirements trick us into believing we must hurry up in the work we do. I have sometimes lived their way, but overall, mostly, the stones have taught me differently. Stones are very slow and patient. I spend my workdays alone with them in my workshop and the slowness rubs off on me. It is futile to hurry jewels along on their journey of emergence from the raw stone which bore them. They refuse to move swiftly, forcing the jeweler to still his anxiousness, and even abandon his pursuit of completion. It sounds odd to say it, but they will be complete only when I have learned to follow them and not lead them. Sometimes when I resist this lesson my life is filled with anxiety, yet when I am mindful of this lesson I feel balanced and beautiful. The stones have given me this, and I sincerely hope that the finished jewels which I create can offer the wearer the helpful sort of harmony, a balancing counterweight of timelessness to human life in the 21st century."