Jewelry Care
The Golden Eye™ strives to offer original designs, quality workmanship, and a memorable experience.

We pledge our service and support for the life of your jewelry. Our unique designs require very little in the way of maintenance in order to enjoy them for years and years. Below are some tips on how to best keep your jewelry in top form. If you take your items to a jeweler to be worked on, you may wish to send them the link to this page. If you prefer to send your jewelry to us to have it serviced, please feel free to contact us.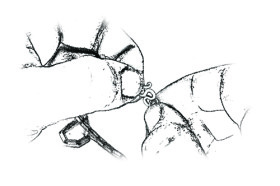 Adjusting"W" Clasps
The "W" clasp on your chain or necklace is a classic design, used for thousands of years as a functional and decorative element. It can also be used as a "hanger" for a pendant. The W is made of 24kt gold and is very flexible.
To open the clasp, push one "wing" of the W forward. Do not pull out laterally. To insure a secure closure, push the wing back to center, and align with the center loop.
After many uses you may find your clasp becoming stiff. This can easily be remedied by having it annealed, a process where the gold is heated and cooled to make the piece soft and flexible again. Any reputable jeweler can do this for you. If you would like us to do it, please allow 1-3 days for completion.
See our video tutorial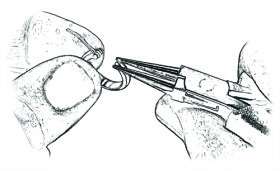 Behind the Ear Latching Hoop
On rare occasions, the catches on our hoops loosen over time. To be sure that your hoops are on securely, listen for a click as you close them. If they do not click firmly, the catches need to be tightened and the hoops should not be worn until adjusted. You are welcome to bring them into our shop for a free adjustment, although this can be done by any jeweler, or yourself (if you must), with a pair of smooth, round needle nose pliers. Squeeze the catch together very gently; you will barely see the catch move. Check the fit of the post and continue until the earrings are clicking soundly again.
Briolettes, Teardrops, and Stone Backdrops
A briolette is an elongated pear-shaped gemstone cut with facets; a teardrop is an elongated pear-shaped gemstone without facets. Stone backdrops are flat pieces of gemstones, nacreous material, or fossils. All of these drop styles require special care to protect them from being dropped or scratched by hard surfaces; some of them are unsuitable for cleaning in an ultrasonic. If you have any questions, please call us (505-984-0040).
Diamond Beads
Put your necklace on with the clasp ends in front of you, clasp it and then gently lift the necklace and turn it around so the clasp is in the back. This procedure puts much less strain on the area where the clasp is attached to the beads-the area that receives the most stress.

We recommend restringing once a year. Do not sleep or shower with your diamond beads on.
Hanger Studs
Do you have ears that are especially sensitive to weight? Are you concerned that your ear holes appear too large? You can still enjoy Ear-rangements by utilizing our Hanger Studs (look under Hoops); they work with most of our drops (not suggested for layering drops).
Each pair is fitted with hooks or labyrinths so that drops can be hung from them for a comfortable and chic look. The fittings are low maintenance 18kt gold wire, adjusted to allow the bail of the drop to slip on and off with resistance. As with all of our Ear-rangements, it's best not to wear them while engaged in vigorous exercise or clothes-shopping (which can qualify as vigorous exercise!).
See our video tutorial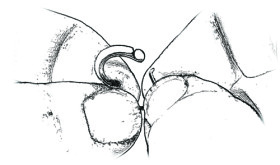 In Front of the Ear Latching Hoops
To be sure your hoops are on securely, the wire needs to snap firmly into the notch that sits in front of the ear. If it does not, hold the hinge between two fingers, and gently pull on the end of the wire until the wire snaps into the opening properly. If the wires become misshapen from undue force, we will be happy to adjust them for free in our store.
Pearls
To insure that your pearls retain their beautiful nacre, please avoid contact with household chemicals, cosmetics, hairspray, and perfume. Gently wipe them with a soft dry cloth when you remove them.
Do not put pearls in an ultrasonic cleaner; instead, you may clean them with a soft cloth dampened with a light dish soap and water solution. Do not sleep or shower with your pearls on-this goes for any other strung necklace. We recommend restringing once a year.
See our video tutorial
Rings
We recommend that all rings with gemstones have an annual checkup by a jeweler to insure that they are secure. Certain stones may become worn and scratched with daily wear. Eternity Bands (set with stones that occupy the total circumference of the ring) can be vulnerable to damage if worn during strenuous activities involving the handling of heavy objects (weightlifting, landscaping, etc.).
We offer yearly "spa services" for your rings and other Golden Eye jewelry, free of charge (not including shipping), during which we clean them and check the security and condition of the stones. We encourage you to take advantage of this service...
contact us
See our video tutorial