About Us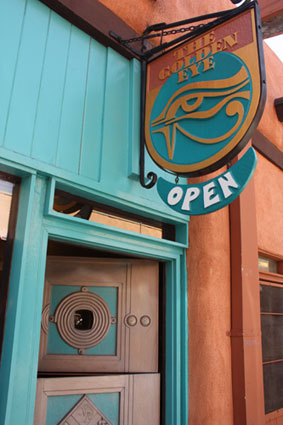 THE GOLDEN EYE™
We are a little jewel box of a store tucked away on a side street in downtown Santa Fe, offering a sumptuous selection of handcrafted, high karat gold jewelry that has enthralled visitors for more than thirty years.
The Golden Eye's dedicated team of goldsmiths draws its inspiration from rose cut natural diamonds, exotic pearls, and a kaleidoscope of brilliant gemstones to bring you jewelry that represents the best of nature and antiquity.
Unlimited opportunities for creativity beckon from our gilded display cases. Our interchangeable hoop and dangle system, Ear-rangements™ offers you the freedom to cultivate a signature style. A beauteous array of stacking rings can be mixed and matched in extraordinary ways. Our bountiful treasure chest also includes the work of artists whose styles complement our designs. You will encounter an informed and conscientious staff that is delighted to help you with your selections.
The Golden Eye™ is a favorite source for unique wedding sets, daywear, special occasion pieces and "self-appreciation" gifts for local shoppers and out of town guests alike. We excel at the creation of one-of-a-kind custom pieces.
Peruse our website and step into the captivating world of The Golden Eye… Passionate Purveyors of Functional Opulence.
View The Golden Eye's™ Policies, Shipping & Pricing