Artists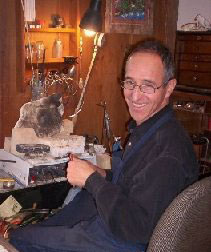 Silvio Mazzarese
Silvio Mazzarese was born in Tunisia to a family of Italian jewelers. His father and uncle had a jewelry store in Tunis, and then in Rome.
The family moved to Nice, France where Silvio went to jewelry school. In 1982 Silvio moved to the United States.
He honed his skills in Kansas City and San Francisco before falling in love with the beauty, open spaces, and people of New Mexico.
Silvio became a member of The Golden Eye family where he was influenced by Norah Pierson's lavish old world aesthetic for over ten years. He continued to work with The Golden Eye until 2008.
He and his family now live in Vermont. He continues to provide The Golden Eye with his iconic designs.

click thumbnail for larger view
Hand made of high karat gold in Santa Fe, New Mexico
Please Contact us for more information.

Due to the fluctuating price of gold, prices may change without notice.