Jewelry Info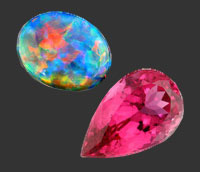 Opal and Tourmaline
Water, sky, fire, and rainbows...all of these elements of nature seem to be embodied in the magnificent opal.
The opal is October's birthstone.
The Australian aborigines tell the story of the Creator coming down to earth from heaven on a rainbow to bring the message of peace to humans. Where his feet touched the ground, it became alive with opalescent color.
It is a fact that 95% of the world's opals are mined in the outback of Australia.
Opals are composed of a mineraloid gel, a mineral-like substance that does not demonstrate crystallinity as most gems do. Deposited in rock fissures, such as limonite, sandstone, or basalt, the small spheres of gel cause interference and refraction manifestations, resulting in the unique color play of the opal.
The opal is made up of at least 3% water, but can have a water content as high as 20%. It can become brittle when stored dry, and the color play may pale when exposed to heat for a long period. It is best to wear your opals regularly. They need to absorb the humidity from the air and the skin. They are rated a 5.5-6 on the Mohs scale, so caution is needed in order to avoid stress and abrasion to the stone.
Ethiopian Hydrophane opals have a different relationship with humidity and oils. They are happiest when they have less contact with skin oils and perspiration.
The tourmaline is also recognized as a birthstone for October. It may be a good alternative for the person who wants to wear their jewelry a little harder . The tourmaline is 7-7.5 on the Mohs scale, making it a very durable stone.
The word tourmaline means "stone with mixed color." They are found in nature in virtually every hue of the rainbow, often with multiple colors in the same stone. The watermelon tourmaline, with three distinct colors, is one of the most fascinating specimens.
Mined mainly in Brazil and Africa, tourmaline is one of the most utilized stones in jewelry today. Rubellite describes a deep red tourmaline, Paraiba, an intense blue green, and Canary, a golden yellow. No two tourmalines are exactly alike, making them a perfect choice for one-of-a-kind pieces.
Legend has classified the tourmaline as the stone of love and friendship, rendering them firm and lasting.

click thumbnail for larger view
Hand made of high karat gold in Santa Fe, New Mexico
Please Contact us for more information.

Due to the fluctuating price of gold, prices may change without notice.