Jewelry Info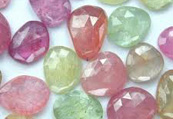 Rose Cut Gems
The term "rose cut" is heard more and more often when describing gemstones utilized in the jewelry industry. The Golden Eye has been using this cut for many years
What exactly is rose cut? It is a method of faceting gemstones so that the base of the stone is wide and flat with no facets; the top of the stone is domed and cut with triangular facets. These facets mimic the progressively tighter spiral of a rose, hence the name.
Most rose cuts are round, oval, or pear-shaped, but jewelers are experimenting with a variety of creative designs.
The rose cut was first introduced in the 16th century. A century later the cut had gained great acceptance and the facet arrangements became less random. Variations were based on multiples of six; six faceted roses, eighteen faceted roses, and the full rose, which consists of eighteen facets and then an upper tier of six facets.
The brilliant cut supplanted the rose cut in the 19th century but the rose cut returned at the turn of the 20th century, when the inspiration from Baroque styles drove jewelry designs. It once again fell from favor after 1910 when styles moved toward Art Deco.
For almost a century the rose cut was in retirement, but has reemerged with great momentum. Once used primarily for diamonds, the cut lends itself to many other gemstones. The look of the rose cut is softer and somewhat more natural looking than traditional faceted stones. Paired with 18kt or 22kt gold, a rose cut gem can become a timeless piece of jewelry.
Please visit our website to view many examples of rose cut jewelry.

click thumbnail for larger view
Hand made of high karat gold in Santa Fe, New Mexico
Please Contact us for more information.

Due to the fluctuating price of gold, prices may change without notice.