New Items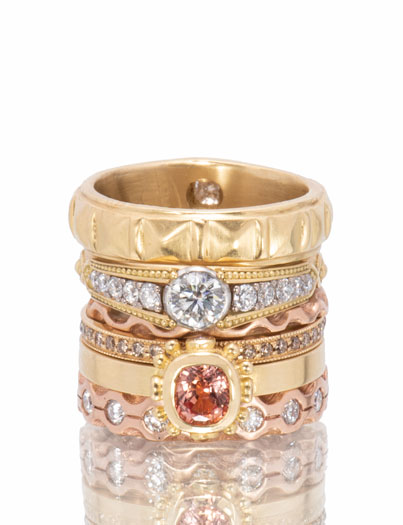 Padparadscha Diamond Stack
A gorgeous salmon Padparadscha sapphire is the inspiration for this palatial stack.
From top to bottom:
R1130 Roman Tile II 18kt Gold Band with Brown Diamond Crystal (diamond not shown) $2100
RC483 Diamond Freyja 18kt Gold Band $6200
R1024a-5 Piecrust 18kt Rose Gold Band $635
RR0102-2A Cognac Diamond 18kt Gold Eternity Band $1990
RC560 Padparadscha Sapphire 18kt Gold Byzantium Ring $3420
R1052a-R White Diamond 18kt Rose Gold Vesta Band $2800
Padparadscha Diamond Stack (RC560-stack)
Hand made of high karat gold in Santa Fe, New Mexico
Please Contact us for more information.

Due to the fluctuating price of gold, prices may change without notice.