Rings
Billboard Stack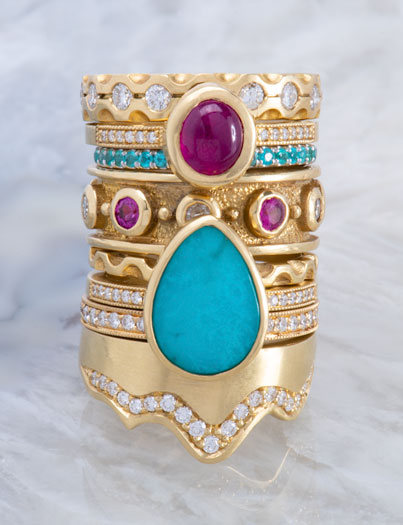 So stunning, we put it on a billboard!
From top:
R1052 White Diamond 18kt Gold Vesta Band $2800
RC500 Ruby and Diamond 18kt gold Be Mine Ring $2800
ION59 Paraiba Tourmaline Platinum Eternity Band $3150
R1189 Ruby and Diamond 18kt Gold Venus Band $2660
R1024 Piecrust 18kt Gold Band $545
RC506 Gem Silica Chrysocolla and Diamond 18kt Gold Be Mine Ring $1840
RR0102 Diamond 18kt Gold Eternity Band $2200
R1063 Diamond 18kt Gold Low Tide Ring $2300
Price: $18,195.00
RC506stack Billboard Stack
Hand made of high karat gold in Santa Fe, New Mexico
Please Contact us for more information.

Due to the fluctuating price of gold, prices may change without notice.
Next