Rings
Ottoman Stack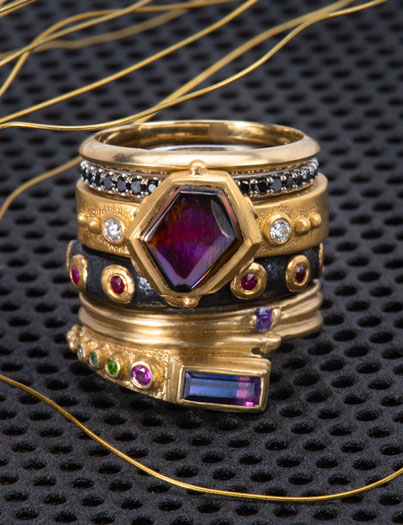 The Sultanate of Women (1520-1650) was a time of empowerment for high-ranking women of the Ottoman Empire...the ornate, luxurious, and colorful attire of the time would've been a perfect fit for our vibrant stack, rank notwithstanding!
From top:
RR1230 Knife Edge 18kt Gold Band $385
ION79 Black Diamond and Platinum Eternity Band $1350
RC474 Andradite Garnet and Diamond 22kt Gold Ring $4600
GEARA52 ARA Oxidized Silver and 24kt Gold Ruby Band $900
RC460 Bi-Color Sapphire 18kt Gold Coil Band SOLD
Hand made of high karat gold in Santa Fe, New Mexico
Please Contact us for more information.

Due to the fluctuating price of gold, prices may change without notice.