Rings
Tower of Power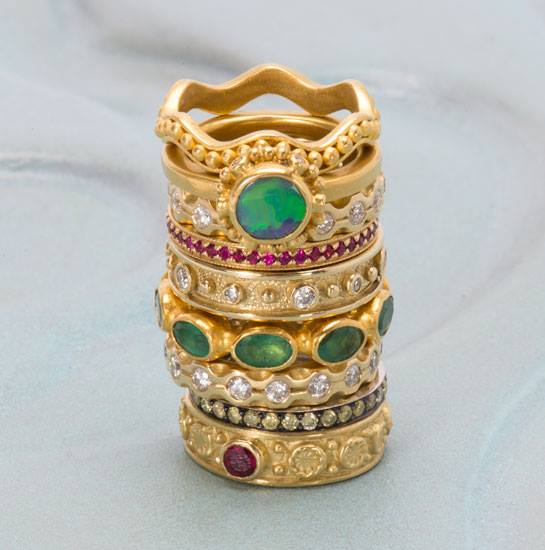 An over-the-top stack for the very long-fingered, the Tower of Power has it all. Opals, emeralds, rubies, and diamonds in a combination of 18kt gold, 22kt gold, and 24kt gold bring to mind the glory of the Renaissance.
From top:
R1226 Venetian Tide Granulated Band $1385
Opal Ring-SOLD
R1052A Diamond Vesta Band $2800
RR0102-2a Ruby Eternity Band $1800
R1053 Diamond Venus Band $2260
GEARA41 Emerald Band $1625
R1052A Diamond Vesta Band $2800
RR1223 Yellow Diamond Eternity Band $1540
R1035f Ruby Circle of Wreaths $1485
Please inquire for prices and availability.
Hand made of high karat gold in Santa Fe, New Mexico
Please Contact us for more information.

Due to the fluctuating price of gold, prices may change without notice.