Search Results
Your search for Star Sapphire Ring returned 0 categories and 3 items
Items
A moonlit black star sapphire provides a watering hole for a little 18kt gold frog in this charming ring.
A milky blue oval sapphire 3.6 ctw. cabochon carries a roving star within, framed in 18kt gold.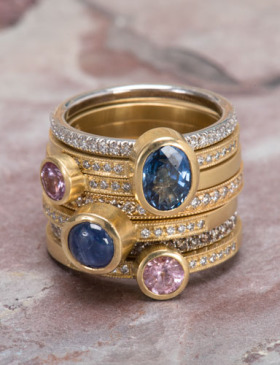 The gentle cheer of spring rain comes to life in this glistening pastel stack-up.
From top:
ION018 White Diamond Platinum Eternity Band
RC476 Blue Sapphire and Diamond 18kt Gold Be Mine Ring
RC468 Pink Sapphire and Diamond 18kt Gold Be Mine Ring
RR0102 Diamond 18kt Gold Eternity Band
RC470 Blue Star Sapphire and Diamond 18kt Gold Be Mine Ring
ION016 Natural Pink Diamond Platinum Eternity Band
RC469 Pink Sapphire and Diamond 18kt Gold Be Mine Ring