Search Results
The item Black Druzy Triangle Drops is currently unavailable.

Items
Oxidized silver and 22kt gold team up to make a fine pair of tribal drops, suitable for layering, as with our Jingle Dangles, or for wearing alone.
Approximate diameter medium size: 1"
Shown on our Large Narrow Beaded Hoops (sold separately).
To view more hoop styles:
see hoop options
These deeply feminine 18kt gold drops are set with glittering white diamonds .24 ctw.
Approximate length: .75"
Shown on our Diamond Pave Hoops (sold separately).
view all hoops
Pre-Colombian iconography inspires these sterling silver and 22kt gold Flat Frog Drops, an ancient symbol that has long been a talisman of abundance and fertility.
Approximate length: .875"
Shown on our Sterling Silver Cypress Hoops (sold separately).
see hoop options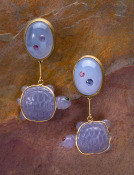 Natural lavender chalcedony is carved into happy turtles with emerald .06 ctw. and ruby .06 ctw. eyes...the detachable turtles are suspended below oval lavender chalcedony cabochons studded with watermelon-colored rubies .08 ctw., crafted in 18kt gold by Laila Ionescu.

Clip-on (posts can be added)

Approximate length (studs): .75"

Approximate length (drops): 1"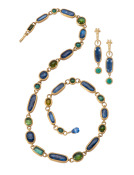 Marine blue kyanites and a variety of green tourmalines unite to create precious colored light in lush frames of 22kt and 18kt gold.

Approximate length: 14.5-18"

Shown with our Kyanite and Emerald Lozenge Drops in 18kt gold.
Stand back, friends, because this is over-the-top fabulous! A stately piece of Chinese turquoise with dramatic black matrix is set in satiny 18kt gold with a cleverly distressed faux finish...the grace note is a row of whispery white diamonds .03 ctw.
The Golden Eye's Ashanti Cross, rendered in sterling silver, 22kt gold, and citrine, is a perfect foil for Sharon Sorken's snake necklace. Sorken's piece is hand-crocheted with Japanese Miyuki beads made from palladium, 24kt gold plate, and black glass, elegantly finished with 22kt gold clasp and end caps.

Beaded chain length: 16"
Ashanti Cross approximate size 1.5 x 1.5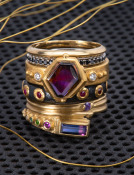 The Sultanate of Women (1520-1650) was a time of empowerment for high-ranking women of the Ottoman Empire...the ornate, luxurious, and colorful attire of the time would've been a perfect fit for our vibrant stack, rank notwithstanding!

From top:

RR1230 Knife Edge 18kt Gold Band $385
ION79 Black Diamond and Platinum Eternity Band $1350
RC474 Andradite Garnet and Diamond 22kt Gold Ring $4600
GEARA52 ARA Oxidized Silver and 24kt Gold Ruby Band $900
RC460 Bi-Color Sapphire 18kt Gold Coil Band SOLD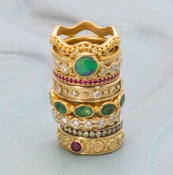 An over-the-top stack for the very long-fingered, the Tower of Power has it all. Opals, emeralds, rubies, and diamonds in a combination of 18kt gold, 22kt gold, and 24kt gold...a combination that brings to mind the glory of the Renaissance.

From top:

R1226 Venetian Tide 22kt Gold Granulated Band $1495
RC420 Black Opal 22kt Gold Ring SOLD
R1052A Diamond 18kt Gold Vesta Band $2800
RR0102-2a Ruby 18kt Gold Eternity Band $1990
R1053 Diamond 18kt Gold Venus Band $2260
GEARA41 Emerald 22kt Gold Band SOLD
R1052A Diamond 18kt Gold Vesta Band $2800
RR1223 Yellow Diamond 18kt White Gold Eternity Band SOLD
R1035f Ruby 18kt Gold Circle of Wreaths $1485

Please inquire for prices and availability.