Artists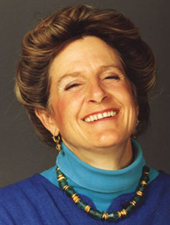 Norah Pierson 1940 - 2007
In the late sixties, Norah Pierson, just back from studying art and jewelry making in Italy, began an apprenticeship with master jeweler Joseph Nolen in Laguna Beach, California. In 1971 she opened her own custom jewelry store, The Golden Eye. She was very successful and built a strong following but decided that Laguna Beach was getting too big. She moved to Santa Fe, reopening her store in June 1984. When she arrived in Santa Fe, she hired Amy Bertelli to be her store manager. For twenty-three years, Norah and Amy made beautiful jewelry together and trained a growing support staff. Norah's dream store had become a reality. Sadly, in June of 2007 Norah passed away unexpectedly, leaving her shop and all of her designs in the hands of her manager Amy Bertelli. The Golden Eye's loyal crew of bench jewelers and sales associates are upholding the legacy of Norah Pierson's distinctive designs and finishes. We continue to offer exquisite jewelry, from the golden oldies to newly inspired designs, all hand made by our highly skilled team in Santa Fe, New Mexico.

click thumbnail for larger view
Hand made of high karat gold in Santa Fe, New Mexico
Please Contact us for more information.

Due to the fluctuating price of gold, prices may change without notice.