Search Results
The item Red Spinel Byzantium Ring is currently unavailable.

Items
These drops deserve the High Priestess Stamp of Approval...deep red garnet briolettes are suspended from diamond-studded .15 ctw. swirls of 18kt gold.
Approximate length: 1.25"
Shown on our Large Narrow Beaded Hoops (sold separately).
To view more hoop styles:
view all hoops
Ring

s

We recommend that all rings with gemstones have an annual check up by a jeweler to insure that they are secure. Certain stones may become worn and scratched with daily wear. Eternity Bands (set with stones that occupy the total circumference of the ring) can be vulnerable to damage if worn during strenuous activities involving the handling of heavy objects (weightlifting, landscaping, etc.). If you would like to have your rings refurbished, please feel free to

contact us

.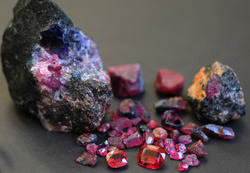 Corundum
When is a sapphire not a sapphire? When it's red, because then it's a ruby!

Both gemstones are a variety of corundum, a crystalline form of aluminum oxide, a mineral second in hardness only to diamond.

Known in Sanskrit as Ratnaraj, the king of gems, rubies have been a treasured gemstone for centuries. The first reference of the stone dates back to 200 B.C., from the literature of the northern Silk Road where they were transported from China to Persia.

Rubies have been used throughout history to adorn the armor, scabbards, harnesses, and crowns of nobles, kings, and queens. Until the 20th century, the ruby was thought to be more valuable than the diamond. It is the birthstone for July and the symbol for love, vivacity, power, and passion.

Rubies are found in Tanzania, Kenya, Pakistan, Montana, North and South Carolina, and under the ice shelf in Greenland.

Burma has always been known as the source of the deep pigeon blood ruby, the most prized color in the ruby world. However, due to the Burmese government's egregious human rights record, Congress passed the Block Burmese JADE Act in October of 2008. Although the U.S. did have a ban on the trade of Burmese gems, this measure closed an important loophole that had allowed the import of Burmese gems via third countries, such as India.

The sapphire, most commonly known as a deep blue gemstone, actually has a fascinating range of color. Almost every color of the rainbow exists naturally in sapphires. A rare color-change sapphire exhibits blue in natural light and a violet-purple in artificial light.

Some stones contain inclusions of small rutile needles that exhibit a property called asterism. This effect produces the "...star sapphire, displayed only in a cabochon cut, and can have six to twelve rays emanating from its center."

The finest specimens of sapphire were mined in Kashmir, Northern India in the late 1800's to about 1920. Today they are imported from Eastern Australia, Sri Lanka, Madagascar, and are also found in Montana and North Carolina.

September is the month of the sapphire. In legend and folklore the stone is said to work as an anti-depressant and act as an aid in telepathy, clairvoyance, and astral projection. So whether you are feeling a bit down, want to know what's going on, or feel the need to get the heck off the planet, a piece of sapphire jewelry might be just what you need!
One of our most popular pendants, Silvio's Cross is made of 18kt gold and can be set with a variety of stones (shown with deep red rubies).
Approximate size: 1" x .5"
Chain sold separately.
See chains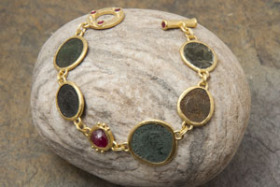 Five ancient bronze Roman coins are set in 22kt gold and complemented with a rose cut red ruby. Additional rubies and diamonds enhance the hand made clasp.
Total length: 8"
SOLD
A perfect pairing for the Azalea ring. These earrings were custom made with multicolor sapphires and diamonds to create an exotic allure.
The inspiration for these stunning earrings is the ancient Ethiopian cross. Although substantial in size, they are intentionally balanced to be very comfortable. They are fashioned from 18kt gold and set with red rubies (available with diamonds-price will vary).
Approximate size: 1.625" x .75"
Fun, whimsical and sure to make you smile , Fannie Frog is created from 18kt gold and gazes at you with opal eyes. This ring can be worn on any finger, but seems to like to rest on the pinky best.
Current size: 5
Classic style with contemporary design combine for a gorgeous solitaire diamond ring. The cushion cut diamond 1.01cts. has a subtle platinum bezel and an 18kt gold band.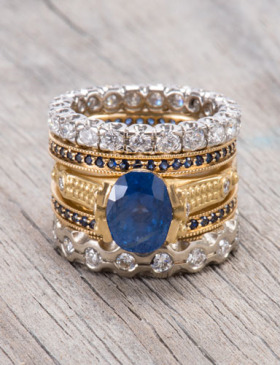 Living large with attitude! The Bombay High Rise is a glorious combination of sparkle and color in 18kt white gold, platinum, 18kt yellow gold and 22kt yellow gold.
From top:
ON019 Fat Diamond Platinum Eternity Band $5400
RR0102 Sapphire 18kt Gold Eternity Band $1900
RC391S Bombay Sapphire and Diamond 22kt Gold Ring SOLD
RR0102 Sapphire 18kt Gold Eternity Band $1990
R1052a-1 White Diamond 18kt White Gold Vesta Band $2965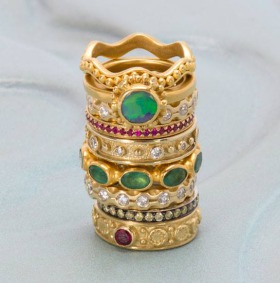 An over-the-top stack for the very long-fingered, the Tower of Power has it all. Opals, emeralds, rubies, and diamonds in a combination of 18kt gold, 22kt gold, and 24kt gold...a combination that brings to mind the glory of the Renaissance.
From top:
R1226 Venetian Tide 22kt Gold Granulated Band $1495
RC420 Black Opal 22kt Gold Ring SOLD
R1052A Diamond 18kt Gold Vesta Band $2800
RR0102-2a Ruby 18kt Gold Eternity Band $1990
R1053 Diamond 18kt Gold Venus Band $2260
GEARA41 Emerald 22kt Gold Band SOLD
R1052A Diamond 18kt Gold Vesta Band $2800
RR1223 Yellow Diamond 18kt White Gold Eternity Band SOLD
R1035f Ruby 18kt Gold Circle of Wreaths $1485
Please inquire for prices and availability.